Due to insomnia last night I discovered that one of my favorite punk-cult-classic films, "Ladies and Gentleman, The Fabulous Stains", was in the
play now
section of Netflix.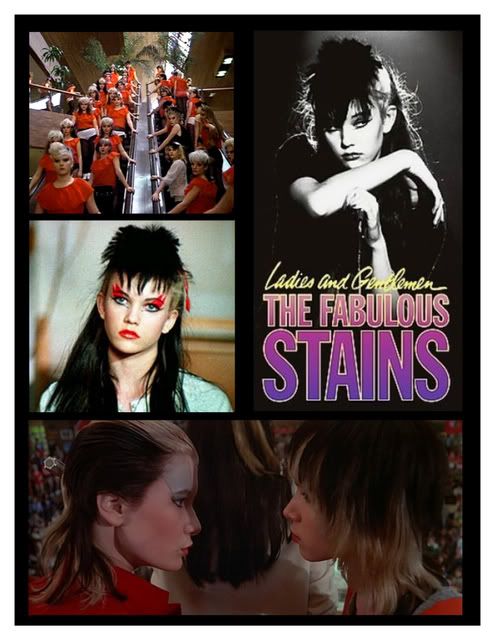 I'm sure everyone who has seen this 80's gem can say they have been inspired by Corrine Burns, the heroin, in some way or another. If you have not seen it, especially any ladies, you MUST drop everything you are doing and watch it right this instant.
I put together a modern "skunk" look with some of my favorite designers and products, along with some new finds that were very specific to achieve the look of Corrine Burns, her band-mates and her devote fans.
First, you need the right hair and make-up.
Left to Right
Manic Panic-Flashing Lightning Bleaching Kit.
Found:
Manic Panic
Stila- Long Wear Lip Liner- Passionate
Found:
Sephora
*For lips and eyes
Smashbox- Jet Set Water Proof Eyeliner-Midnight Black
Found:
Sephora
* Use with
Arched Eyeliner Brush by Smashbox
Nars- Lipstick- Fire Down Below
Found:
Sephora
Clairol- Nice 'N Easy- Natural Blue Black
Found:
Clairol
*Doesn't fade so you just have to touch up your roots with
Clairol Root Touch-up
Dior- Dior Show Mascara- Black
Found:
Sephora
Now the complete outfit-- two looks that are mostly interchangeable.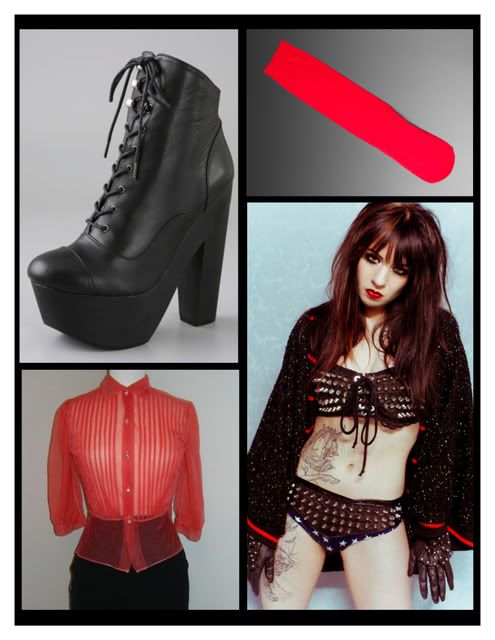 Chloe Sevigny for Opening Ceremony- Mary Ellen Clog Booties
Found:
Shop Bop
OkOk- Nylon Knee High Socks- Red
Found:
Revolve Clothing
*Worn scrunched down or to the knee
Mutant Vintage- 50's Red Nylon Blouse
Found:
Mutant Vintage
on Etsy
Toxic Vision- NAMM Collection- Star Studded Bikini Bottoms
Found:
Toxic Vision
on Etsy
*I would love to have the top too!
ShyShy- Eyelet Tights
Found:
Yes Style
MinkPink- Swiss Dot Blouse
Found:
Nasty Gal
*In the 24 hours that I found this *NEW* blouse it's sold out, but I can settle for MinkPink's
Good for Nothing Mesh Shirt
Toxic Vision- NAMM Collection- Red Hot Leather n Lace Studded Bodysuit
Found:
Toxic Vision
on Etsy
Christian Louboutin- Mad Mary Janes
Found/still available at:
Discount Louboutin Shop
*I'm not sure if this site makes legit Louboutin's, but I've wanted Mad Mary's since they came out YEARS ago. I never could never afford them until this I found this site. I'll let you know if I test the waters at this discount shop.
Enjoy and "Don't put out!"
-AM