I've avoided this blog enough.
Since the beginning of 2011 a lot of really awesome things have been happening, even getting mono was cool because I got to watch a lot of tv, play a lot of video games, and sleep entirely too much without feeling guilty.
I'm finally starting my new line that is going to have more than just rings. I finished this piece the other day:
It's 1.5 in in diameter and made in sterling silver. I have it listed on
my etsy
-- one for $57 and a pair for $97
My new line is going to be mostly hand made instead of cast works. Lately I've been inspired to make delicate jewelry that I'm going to add an my own unusual twist.
I've even started practicing setting inverted gems like these two silver rings with inverted garnets, that will eventually sandwich a tooth:
Lydia Hudgens
contacted me about using my jewerly in a photo shoot with blogger
Chanel
. Lydia takes very beautiful fashion oriented photos and runs a very cool
blog
that revolves around her work and other great photographers. The shoot is happening today and I can't wait to see how the photos turn out! I'll definitely post a link to wherever they turn up.
I made a really awesome ring for a friend. She is a hair dresser that loves big silver jewelry and I have dead dyed hair, it was the perfect trade. I made her a one of a kind ring in exchange for the best hair care products, like a sampler of the new
Awapuhi
line by Paul Mitchel,
Rockaholic
dry shampoo and conditioner and other really great stuff that has made my hair soft and healthy looking.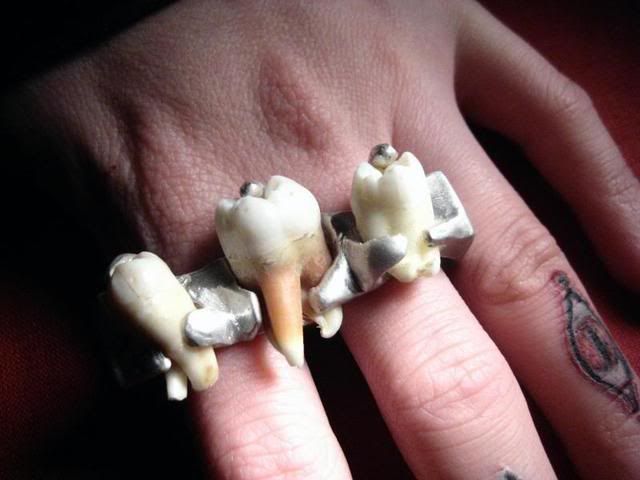 She shares my obsession with teeth and has a great collection of gnarly found teeth. I carved the ring in wax first because I wanted the teeth to look like a part of the metal and I wanted the metal prongs to look very organic, unlike a normal stone setting.
Also, I just made my
inverted cross coffin ring
into a man's size for Rob Liebling, lead singer of
Pentagram
.
*Hopefully* it will be worn on the cover of
Decibel Magazine
and in a 3 page spread of
SPIN
which will also include his wife,
Halcoholic
, wearing my
DOOM ring
. Both issues are coming out in the April-June months i think.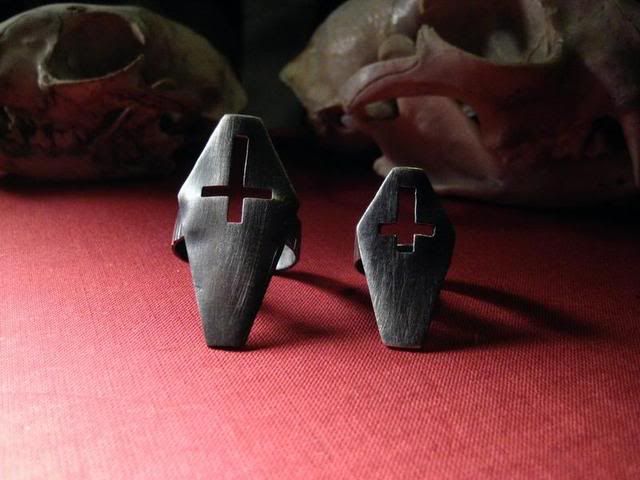 This ring is kind of massive compared to the original ring that would fit perfectly on the average female's hand. It's about 1.75 inches in length and made out of sterling silver with a hammered finish on the band. You can see more photos or/and buy it on
my etsy
.
Lastly, I think I'm going to have a give-away soonish, but I need someone to host it. I'll definitely post something about it when the time comes.
Oh and today is my birthday.
I actually took of a night of work so I could FINALLY see Night Birds, ex Ergs North Jersey surf rock, for my birthday.
Check them out here
. Although, I've only listened to "Midnight Movie Tapes", their new album, a few times-- "Killer Waves" and their self titled album have been a staple in my life for the past many months. I'm obsessed with surf rock.
AM